Florida Weapons Charges
Felony Defense Lawyers in St. Petersburg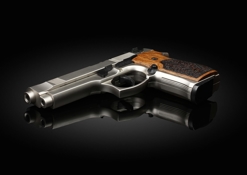 The criminal defense attorneys at Fleming Law Group in St. Petersburg can help preserve your rights in a weapons charge. A felony conviction can change your life forever. In Florida, all violent crimes except a misdemeanor battery are felonies.
If you are convicted of a felony, you could be incarcerated in state prison, lose your right to vote and own a firearm, and worst of all, find it difficult to find a job. With such serious consequences, it's important to hire an aggressive criminal defense lawyer who will fight for the best possible outcome and ensure your rights are preserved.
Penalties for Repeat Offenders in Florida
There are strict penalties for probation violators with a violent history. Florida's new Anti-Murder Act imposes strict sanctions for felony probation violators with a history of violent crimes, including holding suspects without bail until the judge determines whether they pose a danger to the community.
At Fleming Law Group, we can protect your rights and run through possible defense strategies. We thoroughly investigate cases to find the details that prosecution and law enforcement have overlooked.