St. Petersburg Drug Crime Lawyer
Aggressively Defending Against Drug Crime Charges in Florida
At
Fleming Law Group
, our drug crime lawyer in St. Petersburg can help you fight your drug charge. In Florida, every drug crime except marijuana possession is a
felony
, and crimes such as trafficking have minimum mandatory prison sentences of up to 25 years. With such serious consequences, it's important to hire an aggressive drug
crimes
attorney in St. Petersburg who will fight to keep you out of prison.
Have you been arrested for a drug crime? Call The Fleming Law Group, P.A. today at (727) 202-4858 or contact us online to schedule a consultation with our St. Petersburg drug crimes attorney.
Drug Charges in Florida
Drug Trafficking
Possession with Intent to Sell
Selling Drugs
Drug Manufacturing
Florida Drug Trafficking Laws
Florida law defines drug trafficking as selling, manufacturing, delivering, buying, or possessing an illegal or prescription drug. If you are convicted of, or plead guilty to, a drug trafficking charge in Florida, the judge must impose a prison sentence according to the mandatory guidelines.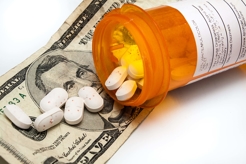 Selling Prescription Drugs Penalties in Florida
Under Florida Law, it takes a smaller amount of prescription drugs than illegal ones to be arrested and charged with trafficking. For example, the minimum amount of marijuana/cannabis/pot/weed for a drug trafficking charge is 25 pounds; for cocaine, it's 28 grams. By contrast, if you're caught with just 4 grams of prescription drugs such as Hydrocodone or Oxycontin, you may be charged with drug trafficking.
What are the Penalties for Selling Drugs in Florida?
The penalties for selling drugs in Florida include the following:
Selling marijuana, prescription drugs, and most other controlled substances is a third-degree felony with a maximum prison sentence of 5 years.
Selling cocaine is generally a second-degree felony with a maximum of 15 years in prison.
However, if you sell drugs within 1,000 feet of a convenience store, church, or school in Florida, the charge may be raised by one degree.
First-degree felonies carry a prison sentence of up to 30 years.
Contact Our Drug Crime Attorney in St. Petersburg Today
If you are struggling with addiction, a prison sentence will only do you more harm. Most judges realize this and are open to foregoing prison sentences if the defendant agrees to a rehabilitation program. Our St. Petersburg drug crime lawyers go above and beyond to help our clients get the help they need. We can help you find a rehabilitation facility and demonstrate your commitment to recovery to a judge.