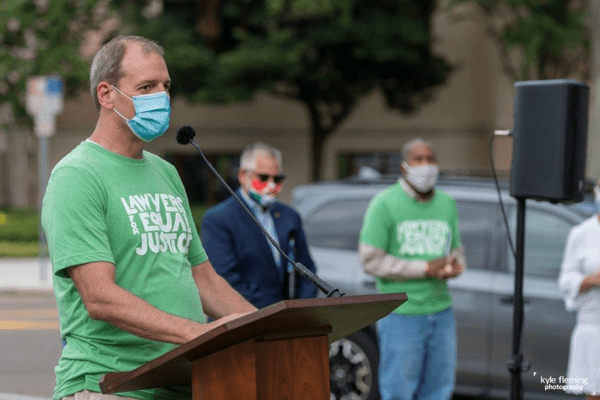 On July 24, 2020, over 100 Pinellas County attorneys gathered on the lawn of the St. Petersburg Judicial Courthouse across from City Hall to call for the fair, equal, and impartial treatment of every citizen, regardless of race, creed, or color. Attorney Lucas Fleming was in attendance and proudly helped organized the event on behalf of Pinellas Lawyers for Equal Justice.
"We want the community to know that the attorneys in our community stand for justice, and stand for them to be equally served in our system," said Attorney Fleming. "Hopefully, they'll get the message that we do care."
Mayor Rick Kriseman, Police Chief Anthony Holloway, and Senator Darryl Rouson were among the speakers. 
Senator Rouson described this moment in history as an opportunity borne from tragedy. He called upon lawyers to expand their comfort zones and take on important causes, from fighting discrimination to seeking environmental justice. "We must each show up, walk through this portal of opportunity, with our minds stayed on greatness," Rouson said during his speech.
Click here to read the full Tampa Bay Times story.